How to Clean Your Pizza Oven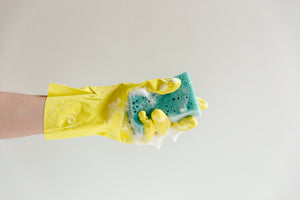 The pizza oven is the most important piece of equipment in any pizza facility. If it isn't functioning properly or is broken you may be out of commission until you can get a service person in to repair it. Unfortunately a conveyor oven isn't cleaned in the same manner as you would an oven at home. Here are some tips on keeping your oven clean and working as it should so you wont have to choose a brand new unit.
Deck Oven
Deck ovens should be cleaned of residue and debris daily, along with a thorough cleaning once a week. When the oven has cooled down, use a scraper and wire brush to scrape off the baked food from inside the oven, extract the debris using a brush and dust pan. Remember not to use any water of liquid on the stone surface as it can cause the stone to crack once it heats back up. Using a stainless steel cleaner clean the exterior of the oven thoroughly scrubbing the areas that have discoloration from heat tint. To preserve the shine of the stainless steel, rub with the grain of the metal.
Conveyor Oven
The bigger the establishment and the more pizzas that go through the conveyor belt, the more debris gets trapped inside the oven and on the belt. Cleaning the oven will take some time and should be done once a week to keep the oven running smoothly and pizzas tasting the way they should. Always make sure you unplug the oven first and remove the conveyor belt, be sure to review your operating manual for proper removal. Once removed, spray the belt with a non-toxic oven cleaner and allow the cleaner to sit for 20 minutes before you scrub with a wire brush. Open the doors and remove the large metal fingers which are located below and above the conveyor belt.
Just as with the conveyor belt, spray and allow to sit for 20 minutes then scrub with a wire brush. Sweep out or vacuum the inside of the oven from any debris. Clean the windows and doors both inside and out with the oven cleaner. Using a stainless steel cleaner, clean the outside of the oven, again scrubbing with the grain. Lastly put the oven back together and turn it on to make sure it's working properly. Taking care of your conveyor oven can prolong the lifespan of your oven saving you money on repairs and replacements. 
Trust us to deliver the pizza parts you need
Here at SyberParts, we have knowledgeable experts ready to answer any questions regarding conveyor ovens as well as products fit for your business needs. Fast shipping is included with every order to make sure you get the parts you need no matter if you're in the US, UK (United Kingdom), Australia or anywhere else on the globe.