Pizza Commercial Oven Conveyor Belt Trouble Shooting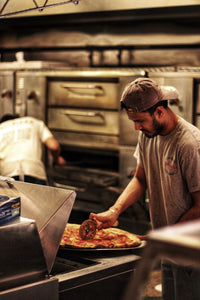 Below are some troubleshooting and easy fixes if your pizza oven conveyor belt is not moving.
Prepare for troubleshooting
Before you begin, be sure to turn off the oven/ conveyor belt. Next, remove the conveyor motor cover by twisting the thumb screw.
1.Chain
Examine the chain. A loose chain could be the reason the conveyor belt is not working.
Shop Replacement Chains
2.Shaft Adapter
If there are no noticeable issues with the chain, check the shaft adaptor. 
If the shaft adaptor is chipped and/or broken off. This can be easily fixed by replacing the shaft adaptor.
Shop Shaft Adapters
3.Sprocket
If the shaft adapter in not damaged, and the chain is moving but the conveyor belt is not, check the screws in the sprocket. 
You will want to make sure the oven is off and chain is not moving. 

Make sure the chain sprocket is lined up with the motor sprocket and the chain is straight and same width from the edge of the oven.

Using a ⅛" allen wrench tighten all the screws on the

sprocket making sure they are tight and chain is straight.
4.Testing
Turn the conveyor for a quick test. After the test run is completed, turn the conveyor off again and put the conveyor motor cover back on making sure it is not in contact with belt or sprockets.
Purchase Mentions Replacement Products:
Shop Replacement Shaft Adapters
WE ARE ALWAYS HERE TO HELP.
You may contact us by email for any return question at sales@syberparts.com.  The SyberParts.com support team operates 7 days a week, 24 hours a day. We always guarantee a response within 48 hours and will be happy to help you!